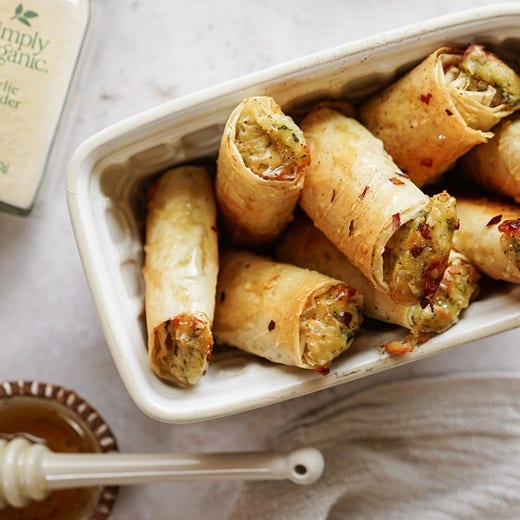 Cheese Spring Rolls with Single Origin Spices
Made with crisp, flaky, phyllo pastry, you'll struggle to resist these cheesy spring roll appetizers featuring the true, delicious flavors of our single-source parsley, garlic, onion and black pepper.
For the Rolls:
1 tablespoon flour
1 tablespoon water
6 sheets (9-x-9 or 9-x-14-inch) phyllo dough
½ cup melted butter
For the Filling:
¾ cup mozzarella cheese
¾ cup queso blanco, queso fresco or Monterey Jack cheese
*If using the dried German parsley, pre-soak it in ice water for 5-10 minutes for freshest taste, then drain.
½ -1 teaspoon Single Origin by Simply Organic® Californian Garlic
½ -1 teaspoon Single Origin by Simply Organic® Californian Onion
½ teaspoon sea or Himalayan pink salt
Honey, for serving
Directions
Preheat oven to 350 degrees. Line a baking sheet with parchment paper.
In a medium bowl, mix cheeses, parsley, garlic, onion, black pepper and salt, starting with ½ teaspoon each garlic and onion powders. Taste and add up to ½ teaspoon more of each, if desired.
Melt butter and set aside.
In a small bowl, mix flour and water to make a paste.
Place 1 sheet of phyllo dough horizontally on a clean surface and gently brush entire sheet with a little melted butter.
Using a sharp knife or pizza cutter, cut sheet in half. You will have two rectangles.
Add one heaping tablespoon of filling to center of one phyllo rectangle, spreading out slightly lengthwise.
Brush a little flour paste along all edges. Fold long sides of phyllo towards center where cheese filling is, making sure dough edges overlap. Fold dough from short end over filling, then roll, creating a burrito-like roll. Brush a little more flour paste on end to seal the roll.
Place seam-side down on baking sheet. Repeat with remaining filling and phyllo dough, for a total of 10 to 12 rolls.
Brush tops of each roll with any remaining melted butter.
Bake for 20 to 22 minutes, until golden brown.
Serve immediately, drizzled with honey.
Recipe Tips:
Store leftovers in the refrigerator in a tightly sealed container for 1 to 2 days. Reheat in oven for best texture.