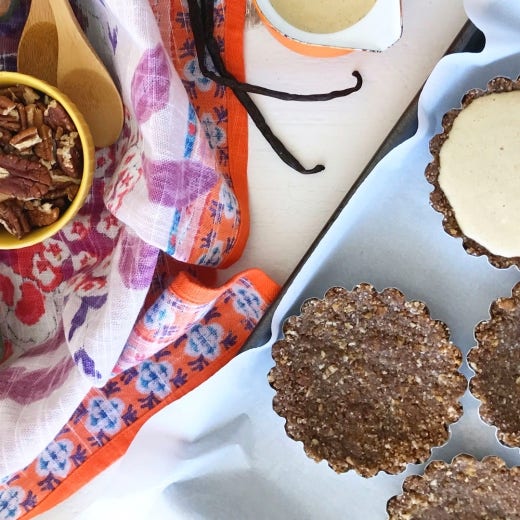 Chai Spiced Cheesecake Tarts
Great for entertaining, let these chai-spiced cheesecake tarts be your go-to dessert! Perfectly-sized, these petite treats feature a gingersnap-pecan crust with a cream cheese base laced with warm organic spices and aromatic vanilla beans.
4 cups gingersnaps
1 cup pecans
1 cup almond meal
3 Simply Organic® Madagascar Vanilla Beans, halved lengthwise
1 teaspoon Simply Organic® Ginger, divided
6 tablespoons coconut oil
8 teaspoons water
2 packages (8 ounces each) cream cheese
4 ounces sour cream
1/2 cup cane sugar
1/2 cup brown sugar, packed
2 teaspoons Simply Organic® Cinnamon
1/2 teaspoon Simply Organic® Nutmeg
1/4 teaspoon Simply Organic® Cardamom
1/8 teaspoon Simply Organic® Cloves
3 eggs
8 pecan halves, for garnish
Directions
Preheat oven to 350 degrees.
In a food processor, combine gingersnaps, pecans, almond meal, scrapings of 2 vanilla beans, 1/2 teaspoon ginger, coconut oil and water. Pulse until mixture is coarsely chopped and sticks together when pressed.
Using a spoon or your fingers, divide and press crust evenly between 8 lightly greased tart molds, then refrigerate while you prepare the filling.
In a large mixing bowl, combine cream cheese and sour cream. Using an electric or stand mixer, beat until smooth.
Add cane sugar and brown sugar, then whip until well combined. Add cinnamon, remaining 1/2 teaspoon ginger, nutmeg, cardamom, clove and scrapings of remaining vanilla bean. Beat until smooth and well combined.
Add eggs one at a time and beat well after each addition.
Remove tart molds lined with crust from refrigerator and divide filling evenly among them. Bake for 20 minutes.
Allow tarts to cool until room temperature, then refrigerate for 30 minutes to chill.
When you're ready to serve, dust each tart with cinnamon and nutmeg, then garnish with pecan halves.