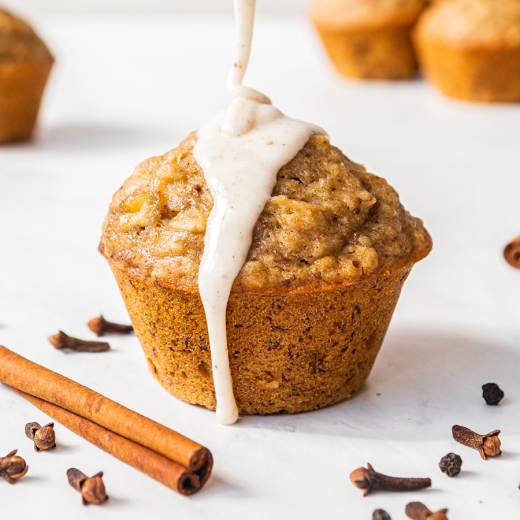 Chai Spiced Banana Breakfast Muffins
This chai spice breakfast muffins recipe has everything you need for a delicious breakfast on the go. Soft, velvety, and laced with freshly ground organic spices, these muffins are a delicious way to get into the fall spirit. This is a great make-ahead breakfast or snack that you'll keep going back for.
FOR THE CHAI SPICE:
1 tablespoon Simply Organic® Whole Black Peppercorns
1 tablespoon Simply Organic® Fennel Seed
2 tablespoons Simply Organic® Ground Cinnamon
3 teaspoons Simply Organic® Cardamom
2 teaspoons Simply Organic® Ground Ginger
2 teaspoons Simply Organic® Ground Nutmeg
1 teaspoon Simply Organic® Ground Cloves
FOR THE MUFFINS:
1 3/4 cups all-purpose flour
2 1/2 teaspoons chai spice mixture
1/2 teaspoon baking soda
1 teaspoon salt
1 cup packed, mashed ripe bananas (about 3)
1 cup confectioners' sugar
2/3 cup honey
1/3 cup melted coconut oil
1 egg, room temperature
1 tablespoon turbinado sugar
1 teaspoon Simply® Organic Vanilla Extract
1/3 cup old-fashioned oats
Coconut oil cooking spray, as needed
FOR THE CHAI GLAZE:
1 cup confectioners' sugar
1/2 teaspoon chai spice mixture
2 tablespoons milk or milk alternative
Directions
TO MAKE THE CHAI SPICE:
In a spice grinder, grind peppercorns to a smooth powder. Add fennel seed and grind to a smooth powder again.
In a small bowl, add the freshly ground pepper and fennel, cinnamon, cardamom, ginger, nutmeg and cloves, whisking until well combined.
Store in an airtight container. Use as needed.
TO MAKE THE MUFFINS AND CHAI GLAZE:
Preheat oven to 350 degrees. Spray a 12-slot muffin tin with coconut oil cooking spray.
In a large bowl and using a sifter, sift together flour, chai spice, baking soda and salt, and set aside.
In a separate large bowl, combine bananas, honey, coconut oil, egg, turbinado sugar and vanilla extract. Stir with a whisk until everything is well incorporated.
Add oats to wet mixture and fold in with a spatula. Add flour mixture in two batches and fold until well incorporated.
Fill each muffin tin about ⅔ full. Bake for 20-23 minutes, until golden brown and a toothpick comes out clean.
While muffins bake, make chai glaze: In a bowl, add confectioners' sugar, chai spice and milk. Using a whisk, mix to a smooth glaze.
Let cool, drizzle with chai glaze and serve. Muffins will keep in an airtight container for up to 5 days.
CHEF SUGGESTIONS:
Along with the chai spice mixture, make to or more recipe quantities of the dry ingredient mixture ahead of time for quicker prep when you want the muffins fast!
For additional fresh-ground flavor in the chai spice, use 3 Simply Organic Cinnamon Sticks, crushed, and 2 tablespoons Simply Organic Whole Cloves in place of ground.