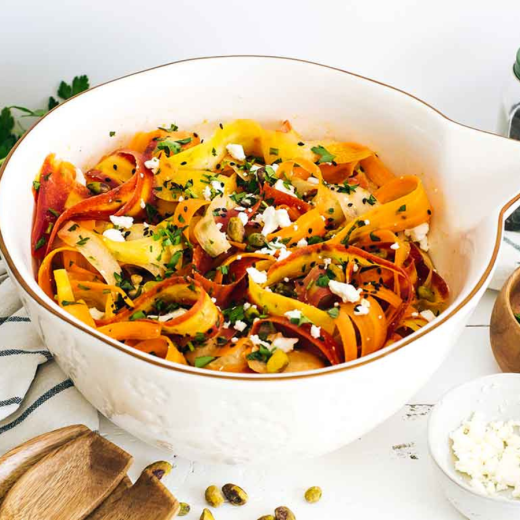 Carrot Ribbon Salad with Middle Eastern Spiced Dressing
A fresh, colorful carrot ribbon salad recipe — with creamy feta cheese and crunchy pistachios, tossed in a tangy dressing featuring cumin, coriander and bright paprika. This Middle Eastern-inspired side dish easily compliments fish or chicken, and comes together quickly enough to be a great weeknight standby.
FOR THE DRESSING:
4 tablespoons extra virgin olive oil
3 tablespoons sherry vinegar
1 tablespoon fresh lemon juice
1/2 teaspoon Simply Organic® Garlic Powder
1/4 teaspoon Simply Organic® Cumin
1/4 teaspoon Simply Organic® Coriander
1/2 teaspoon Simply Organic® Paprika
1/4 teaspoon sea salt or pink Himalayan salt
FOR THE SALAD:
3/4 cup raw pistachios, shelled
8 large carrots (about 1 pound), peeled
1/2 cup parsley, finely chopped, plus more for garnish
1/2 cup crumbled feta cheese, plus more for garnish
Simply Organic® Black Sesame Seed, for garnish
Directions
In a small bowl, combine olive oil, sherry vinegar, lemon juice, garlic powder, cumin, coriander, paprika and salt. Whisk until well combined.
Preheat oven to 350 degrees. On a small, rimmed baking sheet, spread pistachios evenly and toast for 5 to 7 minutes, until fragrant. Set aside to cool.
Use a vegetable peeler to shave carrots into thin ribbons.
In a large salad bowl, combine carrot ribbons, toasted pistachios and parsley. Toss until well combined.
Toss salad with dressing, then gently fold in feta.
Serve in small bowls, garnished with parsley, feta and black sesame seed.