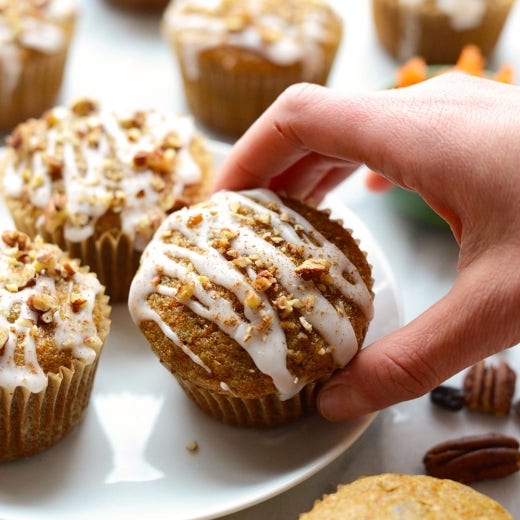 Carrot Cake Muffins with Coconut Oil and Nutmeg
Crafted with whole wheat flour, freshly grated carrots, almond milk, coconut oil, cinnamon, ginger and nutmeg, this wholesome carrot cake muffins recipe makes a great breakfast or snack!
For the Muffins:
3/4 cup white whole wheat flour
3/4 cup all-purpose baking flour
1/2 cup cane sugar
1 teaspoon baking powder
1 teaspoon baking soda
1 1/2 teaspoons Simply Organic® Cinnamon
1/2 teaspoon Simply Organic® Ginger
1/2 teaspoon Simply Organic® Nutmeg
1/8 teaspoon sea salt or Himalayan pink salt
1/4 cup raisins
2 large eggs, yolks and whites separated
1/4 cup dairy-free plain Greek yogurt alternative
1 teaspoon Simply Organic® Pure Madagascar Vanilla Extract
1/3 cup pure maple syrup
1 cup unsweetened almond milk
1 cup grated carrots, squeezed and packed
1/4 cup coconut oil, partially melted
For the Icing:
3/4 cup powdered sugar
2 tablespoons water
1/3 cup pecans, chopped, for topping
Directions
To Make the Muffins:
Preheat oven to 350 degrees and grease or line a muffin pan.
In a medium-sized mixing bowl, combine flour, sugar, baking powder, baking soda, cinnamon, ginger, nutmeg, salt and raisins. Stir until well combined, then set aside.
In a large mixing bowl, combine egg yolks, Greek yogurt, vanilla, maple syrup and almond milk. Use a hand mixer to mix until well blended.
Slowly add the wet ingredients to the dry ingredients. Stir until well combined, then add carrots and coconut oil. Stir until well mixed and set aside.
In a separate small bowl, whip egg whites until they form peaks, then gently fold them into the batter.
Fill muffin cups 3/4 full with batter.
Bake for 19 to 21 minutes, until a toothpick inserted into the center of a muffin comes out clean. Remove from oven and let cool for at least 30 minutes.
To Make the Icing:
In a small bowl, combine powdered sugar and water. Whisk until well combined.
Drizzle icing over muffin tops, sprinkle with chopped pecans and enjoy!