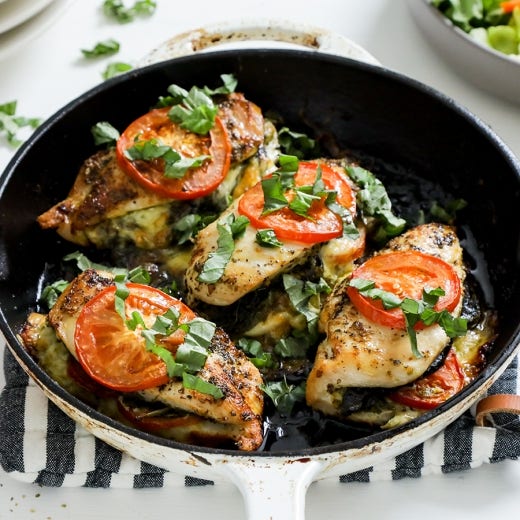 Caprese Stuffed Chicken Breasts with Balsamic Pesto Sauce
Delectable, restaurant-worthy stuffed chicken breasts with caprese-inspired filling, Mediterranean herb rub, and a pesto sauce made easy with our Sweet Basil Pesto Seasoning Mix.
1/2 cup + 1 tablespoon extra-virgin olive oil, divided
1/2 cup water
2 tablespoons balsamic vinegar
4 boneless, skinless chicken breasts (about 1½ pounds)
1 teaspoon Simply Organic® Oregano
1 teaspoon Simply Organic® Basil
1 teaspoon Simply Organic® Garlic Powder
Sea or Himalayan pink salt, to taste
2 Roma tomatoes, sliced
4 mozzarella cheese slices
12 fresh basil leaves
Directions
Preheat oven to 400 degrees.
In a small saucepan, combine Pesto Seasoning Mix, the 1/2 cup olive oil and ½ cup water. Bring to a boil over medium-high heat, stirring constantly. Once boiling, remove from heat and stir in balsamic vinegar. Set aside.
Place chicken on a cutting board and cut a pocket about three quarters of the way through on the thickest side of each breast, taking care not to cut all the way through.
In a small bowl, combine oregano, basil, garlic powder, salt and pepper to taste, and 1 tablespoon olive oil. Rub over chicken and into the cavity.
Fill each chicken breast with one slice of fresh tomato, one tablespoon pesto sauce, one slice of cheese and three basil leaves.
Seal each pocket with three to four toothpicks placed diagonally to keep filling inside while cooking.
In a cast iron skillet, sear chicken breasts for two to three minutes per side. Pour remaining pesto sauce over chicken and top with an additional tomato slice.
Transfer pan to preheated oven and bake for 15 to 20 minutes, or until chicken is cooked through and cheese has melted. If desired, turn oven to broil for two to three minutes to char the tomatoes. Remove toothpicks and serve.
RECIPE TIP
Add 1/4 cup chopped spinach to each breast pocket for an added nutritional boost.