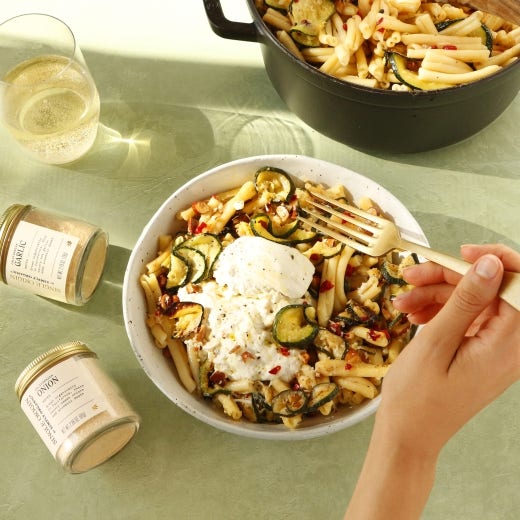 Californian Garlic Zucchini Pasta
A sheet pan and one pot are all you'll need to make this vegetarian meal. Roasted zucchini, Californian Garlic, and fresh pasta come together to make a meal worth raving about.
1 cup grated Parmesan cheese
1 pound pasta of choice
1 cup raw almonds, chopped (or nut of choice)
1/4 cup olive oil, divided
1 lemon, juice and zest
2 medium zucchini, thinly sliced
1/4 cup pickled cherry peppers, chopped
8 ounces burrata cheese, for serving, optional
Sea salt, to taste
Directions
Preheat oven to 450 degrees. On a rimmed sheet pan, place zucchini and drizzle with olive oil. Add garlic and onion powders, salt and pepper; toss to evenly coat.
Roast for 15 minutes, stirring halfway through. Remove from oven and add nuts, tossing to coat, then roast for an additional 10 minutes.
Meanwhile, bring a large pot of salted water to a boil. Add pasta and cook to al dente; retain 1 cup of pasta water, then drain pasta and return to pot.
Add roasted zucchini, nuts, and remaining olive oil. Stir to combine, then add cheese, about ½ cup reserved pasta water, cherry peppers, lemon juice and zest. Mix well, adding additional pasta water if needed to coat pasta.
Serve into bowls and top with burrata, if using. Season with additional salt and pepper to taste, and serve.