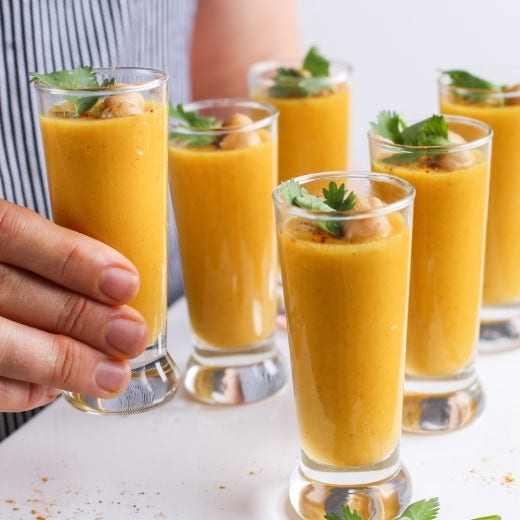 Butternut Squash Soup Shooters
Butternut squash soup turns shooter in this recipe featuring organic squash and curry powder.
This recipe makes 7 cups of soup.
For the Soup:
1 tablespoon olive oil (or butter)
1 medium onion, chopped (about 1 cup)
4 celery stalks, chopped (about 1 cup)
3 garlic cloves, crushed and chopped
1 three-pound butternut squash, peeled and cubed (about 5 cups)
1 teaspoon sea or Himalayan pink salt
2 teaspoons Simply Organic® Curry Powder
5 cups vegetable broth (or a water and broth combo, if desired)
1 cup canned coconut milk
For the Garnish:
Fresh cilantro
Cooked chickpeas
Simply Organic® Crushed Red Pepper
Directions
In a large stock pot, over medium heat, heat oil. Add onion and celery; cook for 4 to 5 minutes, until onions are translucent and vegetables "sweat."
Stirring frequently, add garlic and cook for 1 minute, until fragrant. Add butternut squash, salt and curry powder. Stir.
Add vegetable broth and bring to a boil. Reduce to a simmer and allow to cook for 25 to 30 minutes, until butternut cubes are soft when pierced with a fork.
Into soup, stir coconut milk, then remove soup from heat.
Using an immersion blender, blend soup until smooth and creamy.
Serve in shot glasses with a garnish of cilantro, chickpeas and red pepper flakes.
NOTES
For a stronger curry flavor, add additional Simply Organic® Curry Powder.
For a crispy garnish, roast chickpeas in the oven.