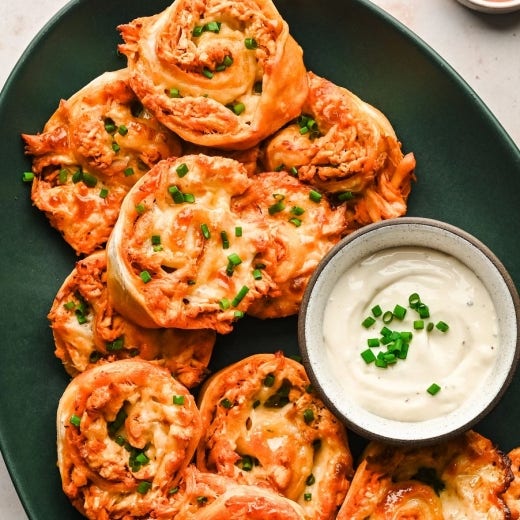 Buffalo Chicken Pinwheels
Pizza dough forms the wrap for these tangy, zesty, cheesy baked chicken pinwheel appetizers. Serve warm, with cooling blue cheese dressing for dipping.
1 pound cooked shredded chicken breast
3/4 cup Buffalo wing sauce
1 teaspoon Simply Organic® Garlic Powder
1 teaspoon Simply Organic® Onion Powder
1/2 teaspoon Simply Organic® Black Pepper
Pizza dough (12 to 14 ounces)
2 cups shredded mozzarella cheese
Blue cheese dressing, for serving
Chives, sliced, for serving
Directions
Preheat oven to 400 degrees and line a baking sheet with parchment paper.
In a large bowl, add shredded chicken, buffalo sauce, garlic powder, onion powder and pepper, and stir until well combined.
On a floured surface, roll out pizza dough into a large rectangle about ¼-inch thick. Evenly spread chicken mixture across dough, leaving a small border around the edges. Sprinkle mozzarella over chicken.
Roll dough into a log, then slice into 12 pinwheels. Place on prepared baking sheet and bake for 20 to 25 minutes, until cheese is melted and browned. Serve warm, garnished with chives, with blue cheese dressing for dipping.
RECIPE TIP
Leftover rotisserie chicken works great for this recipe.