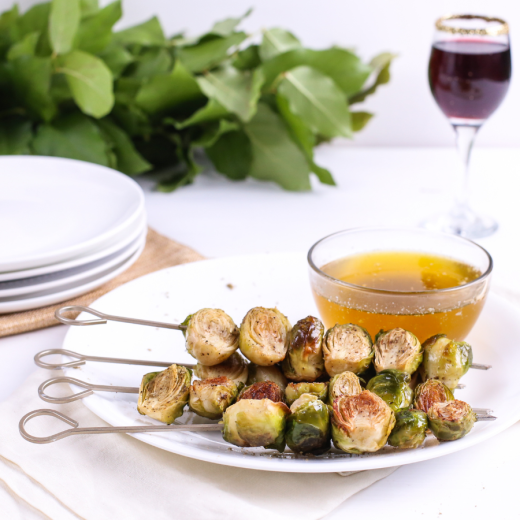 Brussels Sprouts with Sage Brown Butter
A simple roasted Brussels sprouts recipe, perfectly paired with a sage brown butter sauce.
Directions
To Make the Brussels Sprouts:
Preheat oven to 425 degrees and grease a baking sheet.
In a large bowl, combine Brussels sprouts, olive oil, salt and pepper. Toss until Brussels sprouts are evenly coated.
On baking sheet, evenly spread Brussels sprouts cut-side down. Roast for 20 to 25 minutes, until tops are slightly brown. Remove from oven and let cool.
To Make the Brown Butter:
In a saucepan over medium heat, melt butter.
Add sage and garlic powder. Cook, checking frequently, for 8 to 10 minutes, until golden brown but not burnt.
Remove from heat. Add lemon juice and stir until well blended, then pour into a serving bowl.
To Assemble:
Thread about 5 Brussels sprout halves through each of 8 skewers. Serve immediately with brown butter.