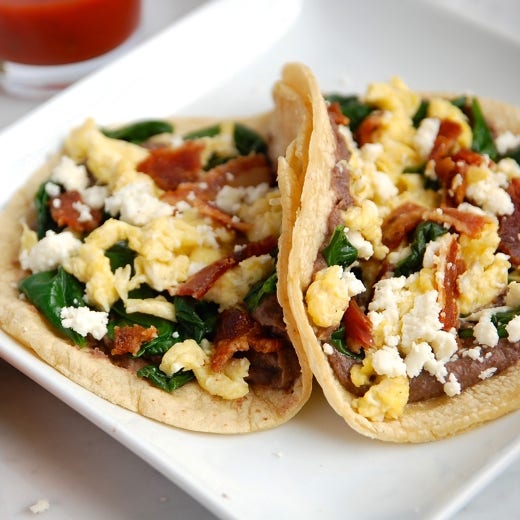 Breakfast Tacos with Refried Black Beans
Breakfast tacos are a cinch with this Texan-developed recipe that's easy to vegetarianize.
FOR THE BACON AND EGGS:
8 slices bacon (optional)
8 eggs
1/4 teaspoon sea salt or pink Himalayan salt
1/8 teaspoon Simply Organic® Black Pepper
1 dash Worcestershire sauce
1 teaspoon olive oil
FOR THE REFRIED BLACK BEANS:
1 tablespoon olive oil
3 cloves garlic, minced
2 cans (15 ounces each) organic black beans, drained and rinsed
1/4 teaspoon Simply Organic® Chipotle Powder
1/4 teaspoon Simply Organic® Cumin
1/4 teaspoon Simply Organic® Paprika
1/4 teaspoon Simply Organic® All-Season Salt
1 can (about 2 cups) low-sodium chicken broth
FOR ASSEMBLY:
8 tortillas
1 cup fresh baby spinach, sautéed
1 cup crumbled queso fresco or shredded Mexican-blend cheese
1 cup salsa
Directions
To Make the Bacon and Eggs:
If using bacon, preheat oven to 380 degrees and line a baking sheet with foil. On baking sheet, evenly spread bacon. Bake for about 15 minutes, then drain grease and pat bacon with a paper towel.
In a bowl, combine eggs, salt, pepper and Worcestershire sauce. Stir until well blended.
In a large skillet over medium-low heat, heat olive oil. Add egg mixture and scramble for about 3 minutes. Transfer to a plate and cover with foil.
To Make the Refried Black Beans:
In a medium-sized saucepan over medium heat, heat olive oil. Add garlic and sauté for about 2 minutes.
Add beans, chipotle powder, cumin, paprika and salt. Cook, stirring, for about 2 minutes.
Add broth and let simmer for about 10 minutes. Transfer mixture to a blender and puree until smooth.
Return mixture to saucepan and cook, stirring, for about 2 more minutes.
To Assemble:
Warm tortillas individually, then divide bacon (if using), eggs, beans, spinach, cheese and salsa evenly among them. Alternatively, arrange all ingredients taco-bar style and let people make their own tacos!