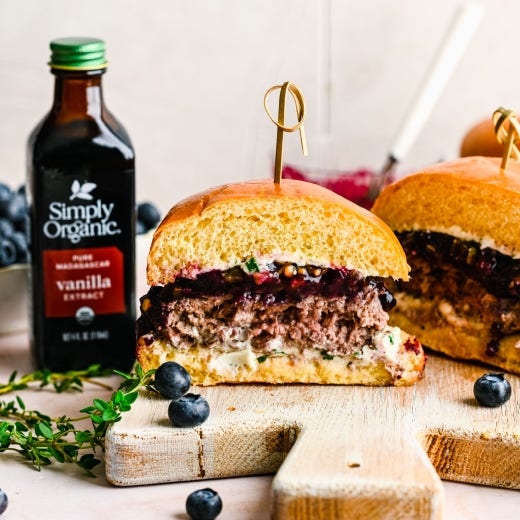 This grilled blueberry burger recipe starts with a simply seasoned beef patty, then goes all the way to gourmet with an exquisitely flavored blueberry sauce, jalapeño relish (optional) and a creamy, herb-laced goat cheese spread — all of which meld together perfectly into an unforgettable summer meal.
2 pounds lean (85/15) ground beef
1 teaspoon sea or Himalayan pink salt
1 teaspoon Simply Organic® Black Pepper
1 teaspoon Simply Organic® Garlic Powder
4 brioche buns, split and toasted
½ cup jalapeño relish (optional
FOR THE BLUEBERRY SAUCE:
1 cup frozen or fresh blueberries (we used wild blueberries)
1 ½ teaspoons balsamic vinegar
1 ½ teaspoons honey
1 teaspoon cornstarch
¼ teaspoon sea or Himalayan pink salt
½ teaspoon fresh thyme, finely chopped
FOR THE HERBED GOAT CHEESE:
4 ounces goat cheese, softened to room temperature
1 tablespoon olive oil
1 teaspoon honey
½ tablespoon freshly squeezed lemon juice
1 tablespoon fresh chives, finely chopped
½ tablespoon fresh parsley, finely chopped
Salt and pepper, to taste
Directions
To Make the Burgers:
Preheat grill to 400 degrees.
In a large bowl, add ground beef, salt, pepper and garlic powder, and mix thoroughly. Form into four half-pound patties.
Preheat grill. Place patties on grill over direct heat. For a medium burger, cook for 5 to 6 minutes on one side, then flip and cook for 4 to 5 minutes on the other side. Remove from grill, cover with aluminum foil and let rest for 10 minutes.
To Make the Blueberry Sauce:
In a small saucepan over medium heat, add blueberries, balsamic vinegar, honey, vanilla, cornstarch, salt, pepper and thyme, and stir well to combine.
Bring to a boil, then reduce heat to low and simmer for 6 to 8 minutes, until berries burst and sauce thickens slightly. (Sauce will thicken more as it cools.) Let cool slightly before adding to burgers.
To Make the Herbed Goat Cheese:
In a mixing bowl, using a fork, mash goat cheese into a spreadable consistency. Stir in olive oil, honey, lemon juice, chives, parsley, salt and pepper.
To Assemble Burgers:
Toast buns. Spread goat cheese on tops and bottoms of buns. Place burger patty on bottom bun, top with blueberry sauce and jalapeño relish, and add top bun. Enjoy!