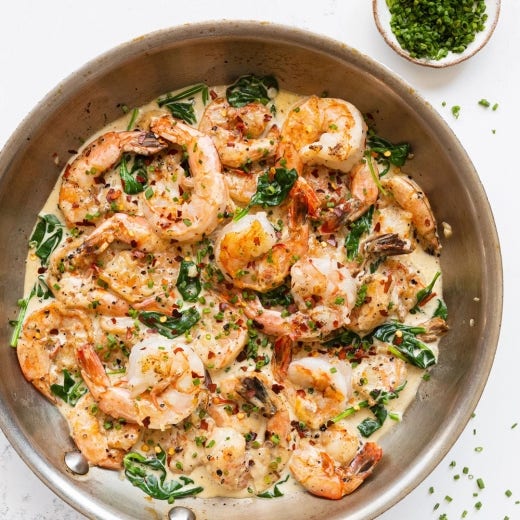 Black Pepper Garlic Shrimp
This Black Pepper Garlic Shrimp recipe makes the perfect weeknight meal and can be on the table in 20 minutes! Sautéed shrimp are cooked in a luscious, creamy sauce emboldened by organic garlic and black pepper. Simple, easy to make, and packed with punchy flavors make this one a house favorite for sure!
1 pound large shrimp, peeled and deveined
Kosher salt, as needed
2 tablespoons olive oil
1 tablespoon unsalted butter
2 cloves garlic, chopped
1 tablespoon Simply Organic® Black Pepper
3/4 cup heavy cream
1 cup loosely packed fresh baby spinach
Chives, for garnish
Directions
Season shrimp to taste with salt. In a medium skillet, heat olive oil over medium-high heat. Add half the shrimp and sear for about 1 minute per side until golden and opaque. Transfer to a plate. Repeat with remaining shrimp.
Add butter to skillet and melt. Add garlic and sauté for 1 minute. Add black pepper and toast for about 1 minute, until fragrant. Stir in cream and spinach and cook until sauce thickens slightly. Add shrimp and cook for 2 minutes.
Adjust seasoning with salt, then garnish with chives and crushed red pepper flakes and serve.