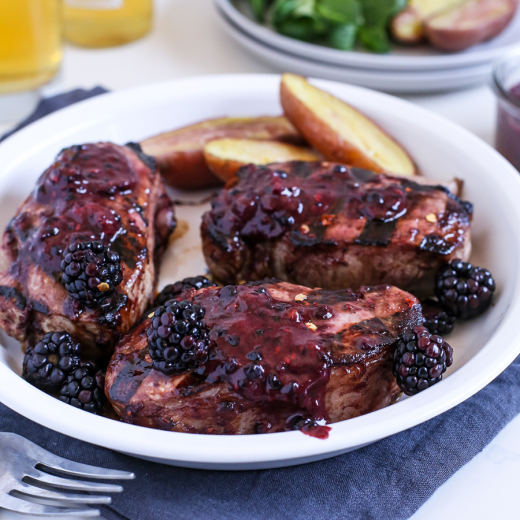 Balsamic Blackberry Glazed Grilled Pork Chops
A sweet and spicy balsamic blackberry glaze gives grilled pork chops an easy summer flare.
FOR THE PORK CHOPS:
4 boneless pork chops (about 3⁄4 to 1 inch thick)
Sea salt or Himalayan pink salt, to taste
Simply Organic® Black Pepper, to taste
1/3 cup olive oil
1/4 cup balsamic vinegar
FOR THE GLAZE:
3/4 cup blackberries, mashed
1/4 cup olive oil
2 tablespoons balsamic vinegar
1 teaspoon Simply Organic® Cinnamon
1/4 teaspoon Simply Organic® Crushed Red Pepper
Directions
To Make the Pork Chops:
Sprinkle pork chops with salt and pepper.
In a small bowl, combine olive oil and balsamic vinegar. Whisk until well combined, then pour over pork chops and toss to coat. Allow to rest and marinate for at least 30 minutes.
To Make the Glaze:
In a small bowl, combine blackberries, olive oil, balsamic vinegar, cinnamon and crushed red pepper. Whisk together until well combined.
To Grill and Assemble:
Heat grill and brush with oil if sticking is a concern. Remove pork chops from marinade and place on grill. Cook for 7 to 9 minutes on each side, brushing with glaze while cooking. Once cooked, brush with more glaze and serve.
Recipe Tip:
For an ultra-smooth glaze, blend all the glaze ingredients in a blender.