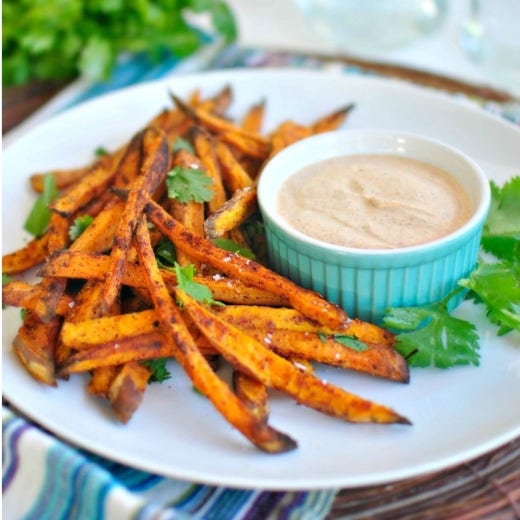 Give your baked sweet potato fries recipe a spicy Southwest kick with this luscious blend of spices, cooled down with a perfectly paired, easy dip mix.
1 package Simply Organic® Ranch or Creamy Dill Dip Mix
2 cups sour cream
2 sweet potatoes, peeled and cut into 1/4-inch thick strips
2 to 3 tablespoons olive oil, plus more for baking sheets
1/2 teaspoon Simply Organic® Chili Powder
1/2 teaspoon Simply Organic® Cumin
1/2 teaspoon Simply Organic® Onion Powder
1/2 teaspoon Simply Organic® Garlic Powder
1 teaspoon Simply Organic® Cayenne
Sea salt or pink Himalayan salt, to taste (optional)
Directions
In a small bowl, combine dip mix and sour cream. Stir until well combined, then place in refrigerator for 30 minutes, until chilled.
In another bowl, place sweet potatoes and cover with water. Let sit for about 1 hour.
Preheat oven to 425 degrees and coat 2 baking sheets with olive oil.
In a large bowl, combine chili powder, cumin, onion powder, garlic powder and cayenne.
Towel-dry the sweet potatoes and add them to the bowl of spices. Add 2 tablespoons olive oil and toss until coated.
Onto each baking sheet, spread seasoned sweet potatoes in an even layer. Bake until sweet potatoes start to brown slightly, then flip and bake for 5 to 10 more minutes.
Remove from oven, let cool, sprinkle with salt (if desired) and serve with dip.
Recipe Tips:
If the sweet potatoes stick to the pan making them difficult to flip, let them cool slightly before flipping.
For a healthier take on nachos, use one of our Guacamole Mix Sauces for dipping.