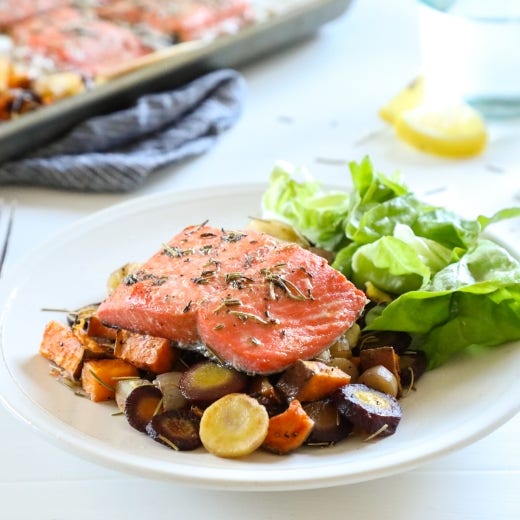 Baked Salmon with Rosemary Root Vegetables
Baked salmon and root vegetables with organic rosemary and thyme come together in this simple, clean recipe.
2 medium carrots, peeled or scrubbed, sliced
2 parsnips, peeled or scrubbed, sliced
1 medium sweet potato, peeled, cubed
3 tablespoons extra-virgin olive oil, divided
2 teaspoons Simply Organic® Rosemary
1/2 teaspoon sea or Himalayan pink salt
1/4 teaspoon Simply Organic® Black Pepper
1 pound salmon, sliced into 4 filets
3 tablespoons orange juice
1 teaspoon Simply Organic® Thyme
Directions
Preheat oven to 400 degrees. On a sheet pan (lined with parchment paper if desired for easy cleanup), toss carrots, parsnips and sweet potatoes in 1 tablespoon olive oil, 2 teaspoons rosemary, salt and pepper. Bake for 20 minutes, until sweet potatoes begin to soften.
While the vegetables bake, marinate the salmon: In a shallow baking dish, whisk together orange juice, remaining 2 tablespoons olive oil, remaining tablespoon rosemary and thyme.
Place salmon fillets flesh-side-down in marinade. Allow to rest until vegetable baking time is up.
Remove sheet pan from oven and push vegetables to side of pan (veggies will continue baking with the salmon). Add salmon, flesh-side-up, to pan.
Bake for 12 minutes, until flaky. Serve and enjoy!