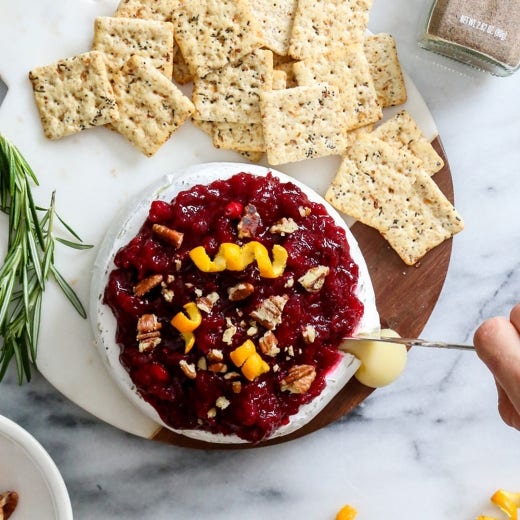 Baked Brie with Cardamom Cranberry Orange Relish
Warm and melting baked brie meets fresh cranberry orange relish spiced with organic cardamom.
Directions
In a medium-sized saucepan, combine all relish ingredients.
Bring to a boil, then reduce to a simmer and cook for 20 to 25 minutes, stirring occasionally.
Once cranberries are soft and burst, use a potato masher or the back of a fork to crush cranberries.
As relish cools and begins to thicken, preheat oven to 350 degrees. Place brie wheel on a baking sheet lined with parchment paper and bake for 12 to 15 minutes, until soft to the touch.
Allow to cool for 5 minutes before topping with relish and orange zest spirals. Serve baked brie with crackers or a toasted baguette.
RECIPE TIP
To save time, prepare the relish in advance and refrigerate for up to 1 week. Reheat on stove-top before topping the warm brie.