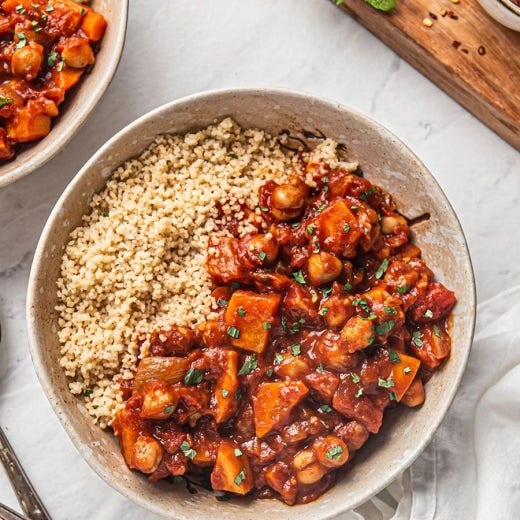 This Middle Eastern-inspired Baharat Chickpea Stew makes such a filling, warming, comforting dinner or lunch. It's packed with veggies, protein and full of flavor from baharat spice.
1 cup dry couscous or quinoa
1 tablespoon avocado oil
1 medium onion, chopped
4 garlic cloves, minced
2 tablespoons tomato paste
1 tablespoon Simply Organic® Baharat Seasoning
1 teaspoon Simply Organic® Paprika
1/4 teaspoon Simply Organic® Crushed Red Pepper
1 medium sweet potato, chopped (about 1 cup)
2 medium carrots, chopped (about 1 cup)
1 can (14 ounces) chickpeas, drained and rinsed
1 can (14 ounces} chopped tomatoes
1 can (14 ounces) tomato sauce
1 teaspoon maple syrup
1/2 teaspoon Himalayan pink salt, or to taste
Fresh mint, chopped, for serving
Directions
Prepare couscous or quinoa according to directions on package. Set aside.
Meanwhile, in a large skillet, heat avocado oil over medium high heat. Add onion and sauté for 5 minutes. Add garlic and cook for another minute.
Add tomato paste, Baharat Seasoning, paprika and red pepper flakes, stirring until a paste forms.
Add sweet potato, carrots, chickpeas, tomatoes, tomato sauce and maple syrup.
Bring to a boil, reduce heat, and simmer for about 25 to 30 minutes, until potatoes are fork-tender. Add salt to taste. Adjust seasonings and add more red pepper flakes for a little extra heat, if desired.
Serve over couscous or quinoa. Garnish with chopped mint.