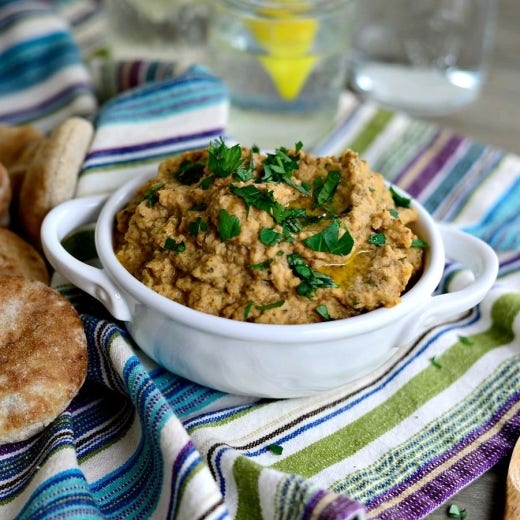 Turn eggplant into a delectable snack with this homemade Baba Ganoush recipe.
2 eggplants (about 2 1/2 pounds), poked a few times with a fork
3 tablespoons lemon juice
3 tablespoons tahini
1 tablespoon olive oil
1 packet Simply Organic® Garlic & Herb Vegetable Seasoning Mix
Pita chips, crackers (gluten-free, if needed) or raw vegetables, for serving
Directions
Preheat oven to 375 degrees and grease a baking sheet.
Place eggplants on baking sheet and bake for about 30 minutes, until soft. Remove from oven and let cool.
Split eggplants and scrape pulp into a food processor. Add lemon juice, tahini, olive oil and seasoning mix. Puree until smooth.
Serve with pita chips, crackers or raw vegetables.
RECIPE TIP
For a slightly charred flavor, place eggplants under the broiler for a few minutes after baking.