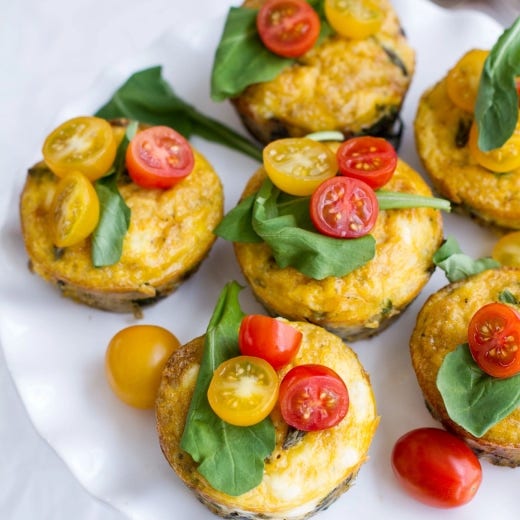 Asparagus Frittata with Thyme
Thyme and paprika perfectly complement this Mediterranean take on the beloved asparagus frittata recipe made with creamy feta and sun-dried tomatoes.
8 large eggs
2 tablespoons Greek yogurt
1/4 teaspoon + 1 pinch sea salt or Himalayan pink salt
1/4 teaspoon + 1 pinch Simply Organic® Black Pepper
4 ounces feta cheese, crumbled
2 tablespoons olive oil
1 cup leeks, chopped
1/2 teaspoon Simply Organic® Thyme
1/2 teaspoon Simply Organic® Paprika
1 bunch asparagus, chopped
1/4 cup sun-dried tomatoes, chopped
1/2 cup grape tomatoes, halved
1/2 cup fresh arugula
Directions
Preheat oven to 400 degrees and lightly oil a muffin pan.
In a large bowl, combine eggs, yogurt, 1 pinch salt and 1 pinch pepper. Whisk until well combined, then stir in feta cheese and set aside.
In a large skillet over medium heat, heat olive oil. Add leeks and sauté, stirring frequently, for about 5 minutes, until softened.
Add thyme, paprika, remaining 1/4 teaspoon salt and remaining 1/4 teaspoon pepper. Stir until well combined.
Stir in asparagus and cook for 3 to 5 minutes, until crisp-tender.
Stir in sun-dried tomatoes and cook for 1 more minute, then remove from heat and divide vegetable mixture among muffin pan cups.
Evenly pour egg mixture over vegetables, then bake for 10 to 15 minutes, until eggs are set.
Garnish with grape tomatoes and arugula, then serve.
Recipe Tip:
For 1 whole frittata instead of multiple mini frittatas, cook the vegetables in an oven-safe skillet, pour the egg mixture over the vegetables and bake for 15 to 20 minutes, until eggs are set.