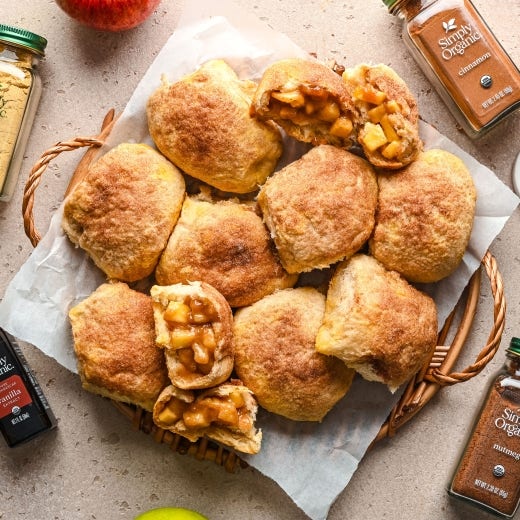 Homemade cinnamony apple pie filling baked inside buttery biscuit dough for a delicious taste explosion. Fun to serve as dessert, or as a side dish with a surprise inside!
4 tablespoons unsalted butter, divided
2 tablespoons heavy cream
1 tablespoon cornstarch
3/4 teaspoon Simply Organic® Pure Madagascar Vanilla Extract
1/4 cup light brown sugar
1 teaspoon Simply Organic® Cinnamon, divided
1/4 teaspoon Simply Organic® Nutmeg
1/4 teaspoon Simply Organic® Ginger
1/8 teaspoon Simply Organic® Ground Cloves
1 pinch sea or Himalayan pink salt
1 can (7.5 ounces) biscuit dough (10 biscuits)
2 diced and peeled apples (about 2 cups diced)
2 tablespoons cane sugar
Directions
Preheat oven to 375 degrees. Lightly oil a 10-inch cast iron skillet.
In a large saucepan, heat 2 tablespoons butter over medium heat. Whisk in heavy cream, cornstarch, vanilla, brown sugar, ½ teaspoon cinnamon, nutmeg, cloves, ginger and salt.
Add apples to saucepan, stirring well to coat. Cook on medium-low heat for 6 to 8 minutes, until apples are fork tender. Let cool.
Using your hands or a rolling pin, flatten each piece of biscuit dough into a 4-inch round.
Place 1 to 2 tablespoons apple mixture in center of each biscuit. Wrap dough around filling, pressing edges to seal.
Place seam-side down in prepared cast iron skillet, leaving a little room between each one for dough to rise.
In a small bowl, add sugar and remaining ½ teaspoon cinnamon, whisking to combine.
Melt remaining 2 tablespoons butter. Brush on tops of biscuits, then sprinkle with cinnamon-sugar mixture.
Bake for 18 to 20 minutes, or until golden brown.