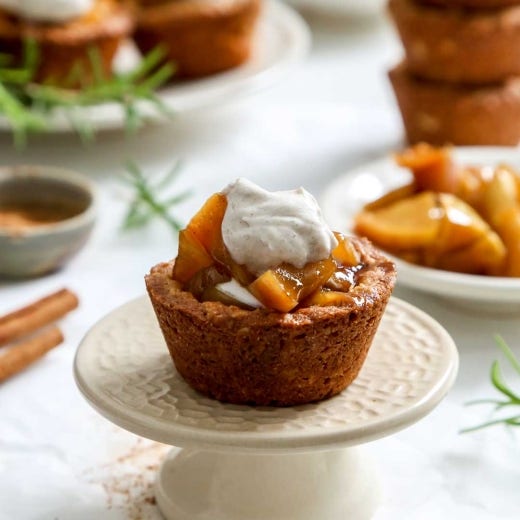 Apple Oatmeal Cookie Cups with Allspice
Put the finishing touch on your meal with this oatmeal cookie cups recipe — stuffed with an apple filling and warmly spiced with cinnamon, ginger and allspice.
3/4 cup unsalted butter, at room temperature
1 1/4 cups packed dark brown sugar, divided
1/3 cup + 1 tablespoon cane sugar, divided
2 eggs
1 1/2 cups all-purpose flour
1 teaspoon baking soda
2 1/4 teaspoons Simply Organic® Cinnamon, divided
1/2 teaspoon Simply Organic® Ginger
1/4 teaspoon Simply Organic® Allspice
1/4 teaspoon sea salt or Himalayan pink salt
2 1/2 cups old-fashioned rolled oats
2 medium-sized granny smith apples, chopped
3/4 cup water
1/2 Juice of 1/2 lemon
1/3 cup organic cornstarch
1/2 cup heavy whipping cream
Directions
In a large bowl, combine butter, 3/4 cup brown sugar and 1/3 cup cane sugar. Use an electric mixer to mix until well combined.
Add eggs, one at a time, beating until well combined. Add 1 teaspoon vanilla extract and beat for 20 seconds, just until combined.
Add flour, baking soda, 1 teaspoon cinnamon, ginger, allspice and salt. Mix on low until well combined, then stir in oats.
In a muffin pan greased with cooking spray, fill each cup with about 3 tablespoons dough, then refrigerate for 1 hour.
In a saucepan over medium heat, combine apples, water, lemon juice, remaining 1/2 cup brown sugar and 1 teaspoon cinnamon. Bring to a boil, then add cornstarch and stir until completely dissolved.
Over low heat, cook for about 7 minutes, until apples are soft and sauce is thick. Remove from heat and let cool.
Preheat oven to 350 degrees.
Using the top of a Simply Organic spice bottle with cap on, press center of each ball of dough down so sides rise up to create a cup.
Bake for 15 minutes, until golden brown and almost set.
In a medium-sized bowl, combine whipping cream, remaining 1 teaspoon vanilla extract, remaining 1 tablespoon cane sugar and remaining 1/4 teaspoon cinnamon. Use an electric mixer to beat until whipped.
Remove cookie cups from oven and use spice bottle to press down center of each cookie cup again.
Let sit for 4 to 5 minutes (not more than that or they may begin to crumble), then use a large spoon to carefully scoop cups from pan. Place on a cooling rack and let cool completely.
Fill each cookie cup with apple filling and top with a dollop of whipped cream. Serve warm.
RECIPE TIP
Use any leftover apple filling on oatmeal, ice cream or yogurt.