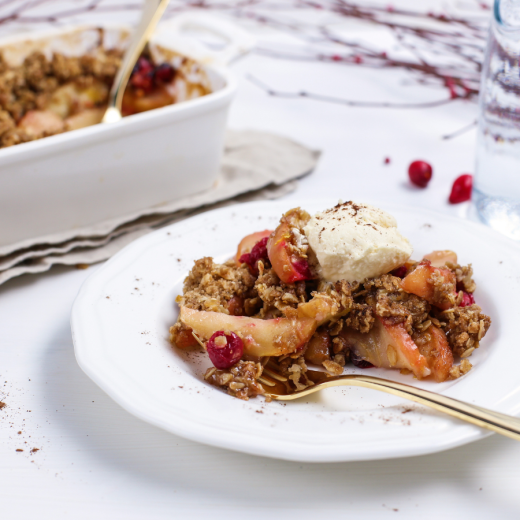 Apple Cranberry Crisp with Allspice
Allspice brings out the best in baked apples and cranberries in this delectable crisp recipe.
For the Crisp:
5 medium-sized apples (any mild, sweet baking variety), cored, sliced (and peeled, if desired)
1 cup cranberries, fresh or frozen (if frozen, do not defrost)
3 tablespoons honey, divided
1 tablespoon orange juice
1 tablespoon orange zest
1/3 cup + 3 tablespoons all-purpose or wheat flour, divided
1 cup old-fashioned rolled oats (not steel cut)
1/2 cup brown sugar
1/2 teaspoon Simply Organic® Ceylon Cinnamon
6 tablespoons butter, cold and cubed
For the Whipped Cream:
1 cup heavy cream
2 to 3 tablespoons honey or maple syrup
Directions
To Make the Crisp:
Preheat oven to 350 degrees.
In a 9x13-inch baking dish, combine apples and cranberries. Add honey, orange juice and orange zest. Gently toss until well combined.
Sprinkle 3 tablespoons flour over the fruit and gently toss until evenly coated.
In a large mixing bowl, whisk together oats, remaining 1/3 cup flour, brown sugar, allspice and cinnamon. Using your hands or a pastry cutter, crumble butter into oat mixture, until it becomes coarse and dough-like.
Evenly cover fruit with oat mixture. Bake for 50 to 60 minutes, until apples are soft and juicy, and topping is light brown and crispy.
To Make the Whipped Cream:
In a small mixing bowl, combine cream, honey or maple syrup and vanilla. Whip until frothy and slightly stiff.
Serve the crisp hot with whipped cream and a few sprinkles of allspice on top.
Recipe Tip:
For a vegan-friendly crisp, substitute maple syrup for the honey and coconut oil for the butter.
For a more "rustic" topping, substitute whole wheat flour for the all-purpose flour.