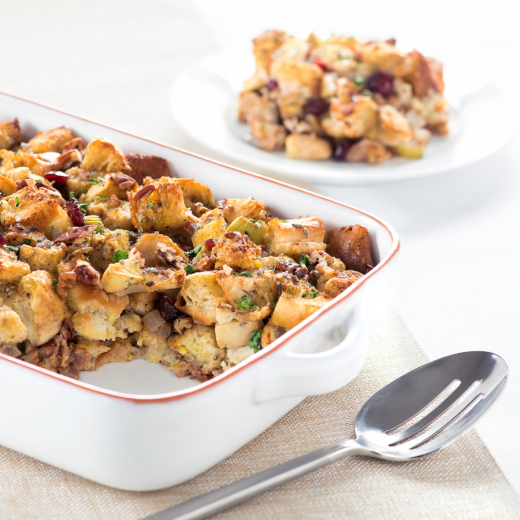 Apple Cranberry Stuffing with Cinnamon
The best flavors of autumn come together in this apple cranberry stuffing recipe with cinnamon and sage complementing a trio of tart, sweet and savory flavors.
4 tablespoons unsalted butter, divided, plus more for greasing pan
2 (4 ounces each) turkey sausage links, broken up and casings removed
2 Granny Smith apples, peeled, cored and roughly chopped
1 yellow onion, chopped
2 ribs celery, chopped
2 cloves garlic, minced
1 tablespoon Simply Organic® Sage
1 teaspoon Simply Organic® Cinnamon
1/2 teaspoon Simply Organic® Ginger
1/4 teaspoon Simply Organic® Nutmeg
1/2 teaspoon sea salt or pink Himalayan salt, divided
1/2 teaspoon Simply Organic® Black Pepper, divided
12 cups day-old focaccia bread, cut into 1-inch cubes
1/2 cup pecans, toasted and chopped
1/2 cup dried cranberries
3 eggs, beaten
1 1/2 cups low-sodium chicken broth
2 tablespoons fresh parsley, chopped, for garnish
Directions
Preheat oven to 350 degrees. Lightly grease a 9x13-inch casserole dish with butter.
In a large skillet over medium heat, melt 2 tablespoons butter. Add sausage and cook, stirring occasionally, for 5 to 8 minutes, until cooked through.
Stir in remaining 2 tablespoons butter, apple, onion, celery, garlic, sage, cinnamon, ginger, nutmeg and 1/4 teaspoon each salt and pepper. Cook, stirring frequently, for 7 to 9 minutes, until vegetables are soft. Allow to cool.
In a large bowl, toss vegetable mixture with bread, pecans, cranberries and remaining 1/4 teaspoon each salt and pepper. Add eggs and stir until well combined. Add broth gradually and stir until well combined, then transfer mixture to prepared pan.
Bake for 45 to 50 minutes, until the stuffing has set in the center and the top is golden. Let stand for 5 minutes, garnish with parsley and serve.
Recipe Tips:
For a vegetarian version, omit the sausage. Melt all butter together in the skillet and move on to the remainder of step 3.
For a sweeter stuffing, use sweetened dried cranberries.
For a more moist stuffing, add a little apple cider or more chicken stock before baking.