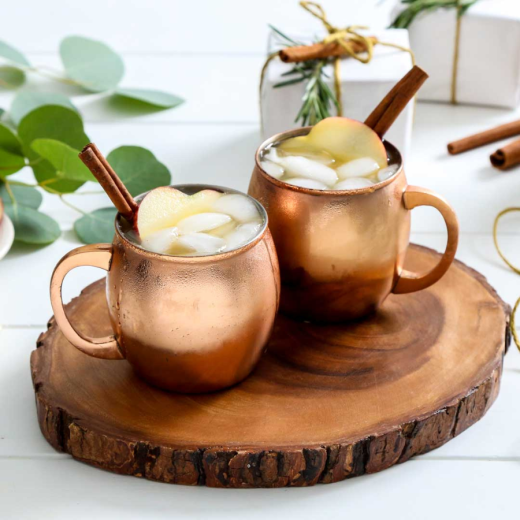 Ring in the holiday season with this delicious apple cider Moscow mule recipe featuring organic cinnamon. Cheers!
4 fluid ounces vodka
4 fluid ounces apple cider
Juice of 2 limes
Ice
24 fluid ounces ginger beer
1/4 teaspoon Simply Organic® Ceylon Cinnamon
2 thin apple slices
Directions
In a cocktail shaker, combine vodka, apple cider and lime juice. Shake until well mixed.
Fill copper mugs (this recipe makes 2 cocktails) with ice, then divide cocktail mixture between mugs and fill each with ginger beer.
Top each cocktail with a sprinkle of cinnamon, a cinnamon stick and an apple slice. Serve and enjoy!
RECIPE TIPS
If desired, or if GMOs are a concern, use potato vodka.
For a stronger ginger flavor, substitute ground ginger for the cinnamon or mix a pinch of each together to sprinkle over cocktails.