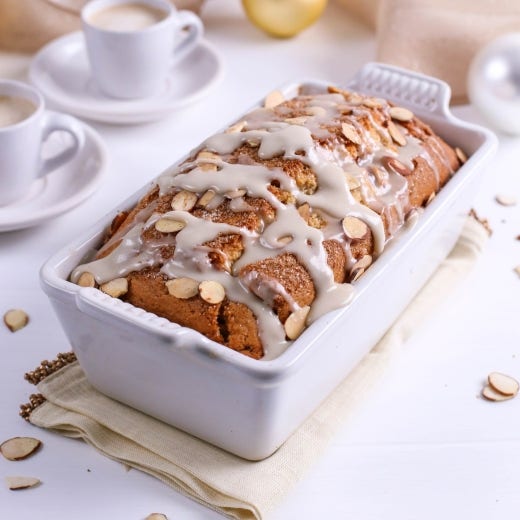 Almond Glazed Snickerdoodle Bread
Re-imagine the classic cookie with this organic almond-glazed snickerdoodle bread recipe featuring organic cinnamon, almond extract and pure Madagascar vanilla.
For the Bread Batter:
1 cup butter
1 1/4 cups sugar
3 eggs
1 cup whole-milk yogurt
2 1/2 cups all-purpose flour
2 teaspoons baking powder
1 teaspoon Simply Organic® Cinnamon
For the Cinnamon Sugar Layers:
1 teaspoon Simply Organic® Cinnamon
3 tablespoons cane sugar
1/8 cup slivered almonds
For the Almond Glaze:
1/2 cup powdered sugar
2 tablespoons whole milk
1/4 teaspoon Simply Organic® Almond Extract
Directions
To Make the Bread Batter:
Preheat oven to 350 degrees.
In a large bowl, combine butter and sugar. Beat until well whipped.
With mixer running, add eggs one at a time.
Add yogurt and vanilla. Beat until well combined, scraping the bowl if needed.
Add flour, baking powder and 1 teaspoon cinnamon. Stir just until combined.
To Make the Cinnamon-Sugar Layers:
Into a greased 9-inch bread pan, pour half the batter.
In a small bowl, whisk together sugar and remaining 1 teaspoon cinnamon.
Sprinkle half the cinnamon sugar mixture over batter in pan.
Pour other half of batter over cinnamon sugar layer.
Top with remaining cinnamon sugar mixture and slivered almonds.
Bake for about 50 minutes, until a toothpick inserted in the center of the bread comes out clean.
To Make the Almond Glaze:
While the bread bakes, in a small bowl, combine powdered sugar, milk and almond extract. Stir until well mixed.
After removing bread from oven, let bread sit for 5 minutes to cool slightly, then pour glaze over top.
Allow to rest until fully cooled. Remove from pan and slice.
Recipe Tip:
To make the bread dairy free, substitute coconut milk yogurt for the whole milk yogurt, and almond or coconut milk for the whole milk.