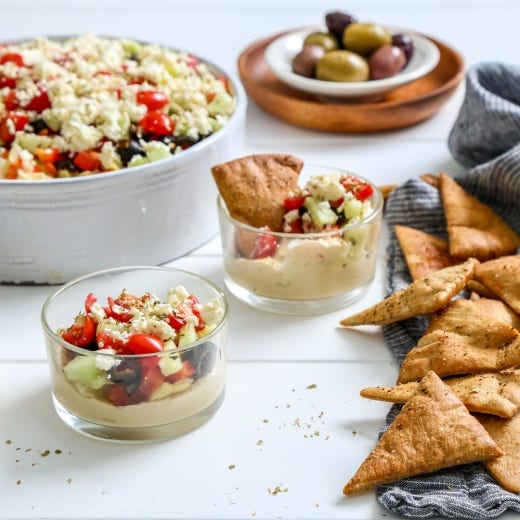 7-Layer Mediterranean Dip with Pita Chips
This simple 7-layer dip takes us to the Mediterranean with hummus, red bell pepper, cucumber, cherry tomatoes, black olives, artichokes, feta cheese, organic oregano and pita chips!
20 ounces plain hummus (store bought or homemade)
2 teaspoons Simply Organic® Oregano
1 teaspoon Simply Organic® Onion Powder
1 teaspoon Simply Organic® Garlic Powder
1 large red bell pepper, chopped
1 large cucumber, chopped
1 pint cherry tomatoes, quartered
1 can (3.8 ounces) sliced black olives, drained
1 can (14 ounces) artichoke heart halves, drained and roughly chopped
1 block (8 ounces) feta cheese
4 whole wheat pitas, cut into 8 wedges each
1/4 teaspoon sea salt, to taste
2 tablespoons olive oil
Directions
Into bottom of medium-size baking dish or casserole-style dish, spoon hummus, then stir in oregano, onion powder and garlic powder. Spread spiced hummus over bottom of dish until fully covered.
Layer bell peppers, cucumbers, tomatoes, olives and artichoke hearts. Sprinkle cheese over top, then a pinch of additional oregano, if desired.
To make the pita chips, preheat oven to 400 degrees. On a parchment-lined baking sheet, toss pita wedges with olive oil and salt. Bake for 8 to 10 minutes, until crispy.
Serve immediately, or store dip, covered, in refrigerator for up to 2 days, and store chips in an airtight container at room temperature until serving. For extra flavor, sprinkle pita chips with oregano and garlic powder before baking.